3 piece luggage and suitcase sets
Travel like a pro with our 3 piece luggage sets. If you are a frequent traveler or like the look of a matching collection, our 3 piece luggage sets are perfect for you. Eye-catching and ideal for the discerning traveler, you'll get noticed at airports around the world.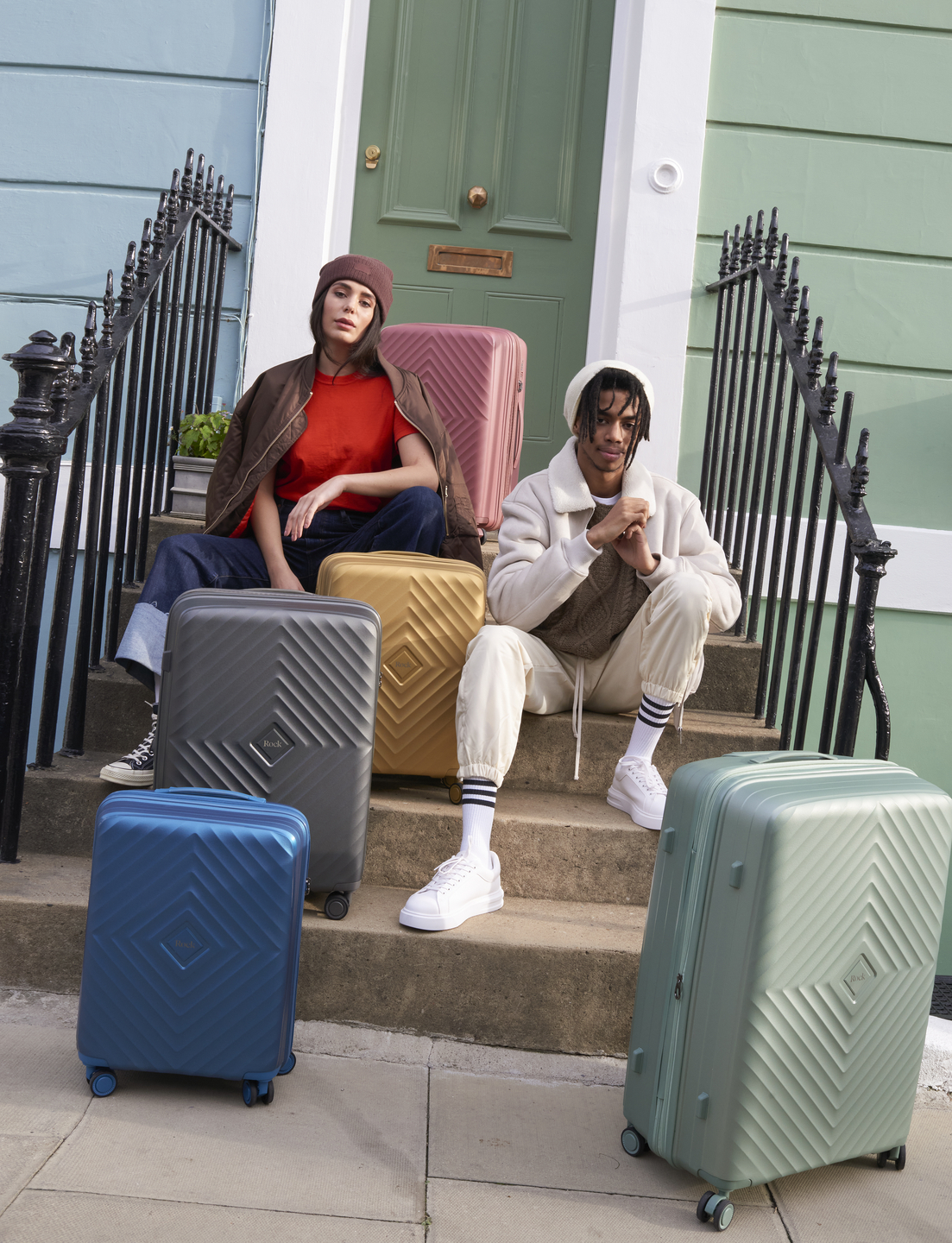 What should you pay attention to when buying a suitcase?
If you are planning to buy a new suitcase, I would like to give you a number of tips that you should pay attention to when purchasing.
Pay attention to the material that the suitcase is made of.
Choose a suitcase with 4 wheels.
A good lock is important.
Striking color: Choose one in a color that stands out or is a bit more unique.
Factory warranty cases
The damage to your suitcase is only covered by the warranty if it concerns a production error. Examples of a production defect are a lock that does not work properly and spinner wheels that do not turn. Damage due to misuse is not covered by the warranty. Like a broken zipper because you packed the suitcase too full. A manufacturing defect is covered by the warranty. Does your suitcase have a manufacturing defect? Please contact our customer service immediately after receiving your order.
Damage during transport
Damage caused during travel, such as baggage handling at an airport, is not covered by the factory warranty of the suitcase, but that does not mean that you cannot get the repair costs for your suitcase reimbursed.
If, for example, the wheel breaks during baggage handling at the airport or during a bus trip, the airline or bus company is liable for this damage. In some cases, travel insurance also covers this damage.
The airport or travel organization is liable for damage caused during the trip. For example, a broken wheel. Immediately fill in a PIR form (Property Irregularity Report) form at the service desk or Lost & Found desk. Take the RIP proof with you and take pictures of the damage. You must hold the organization liable for the damage within 7 days of arrival. You add the photos and the PIR evidence as proof of the damage.
Always check your order upon receipt
Check the order immediately upon receipt. If something is not to your liking, please let us know as soon as possible after delivery by telephone or e-mail.
Maatschappij
Toegestane bagage
Maximale Afmeting
Maximaal Gewicht
Air Europa
1 handbagage +
1 accessoire
55 x 35 x 24 cm
20 x 35 x 30 cm
10 kg

Air France
1 handbagage +
1 accessoire

55 x 35 x 25 cm


12 kg


British Airways
1 handbagage +
1 accessoire
56 x 45 x 25 cm
40 x 30 x 15 cm
Totaal: 23 kg
Brussels Airlines
1 handbagage
55 x 40 x 23 cm
12 kg
China Airlines
1 handbagage +
1 accessoire
56 x 36 x 23 cm

7 kg
Corendon
1 stuk handbagage
55 x 40 x 25 cm
8 kg
Delta Airlines
1 stuk handbagage
56 x 35 x 23 cm
Onbeperkt
Easyjet
1 accessoire
1 stuk handbagage (tegen betaling)
45 x 36 x 20 cm
56 x 45 x 25 cm
15 kg
15 kg
Emirates
1 stuk handbagage
55 x 38 x 20 cm
7 kg
Flybe
1 stuk handbagage
55 x 35 x 20 cm
10 kg
Germanwings (eurowings)
1 accessoire
1 stuk handbagage
40 x 30 x 20 cm
55 x 40 x 23 cm

8 kg
Iberia
1 stuk handbagage
1 accessoire
56 x 40 x 25 cm
40 x 30 x 15 cm
10 kg

KLM

1 handbagage
1 accessoire

55 x 35 x 25 cm
40 x 30 x 15 cm
12 kg
Lufthansa

1 handbagage
1 accessoire

50 x 40 x 23 cm
30 x 40 x 10 xm
Totaal: 8 kg
Malaysia Airlines
1 stuk handbagage
56 x 36 x 23 cm
7 kg
Norwegian Airlines
1 accessoire
1 stuk handbagage (tegen betaling)
30 x 20 x 38 cm
55 x 40 x 23 cm
Totaal: 10 kg
Pegasus
1 stuk handbagage
55 x 40 x 20 cm
8 kg
Royal Air Maroc
1 stuk handbagage
55 x 40 x 20 cm
10 kg
RyanAir
1 kleine tas
1 stuk handbagage (tegen betaling
40 x 20 x 25 cm
55 x 40 x 20 cm
10 kg
10 kg
Scandinavian Airlines

1 stuk handbagage +
1 accessoire

55 x 40 x 23 cm
40 x 30 x 15 cm

8 kg


Singapore Airlines
1 stuk handbagage
Totaal 115 cm
Totaal: 7 kg
Swiss
1 stuk handbagage
55 x 40 x 23 cm
8 kg
Thomas Cook
1 stuk handbagage +
1 accessoire
55 x 35 x 25 cm
40 x 30 x 15 cm
Totaal: 8 kg
Transavia
1 stuk handbagage
1 accessoire
55 x 35 x 25 cm
40 x 30 x 20 cm

10 kg

TUI Fly
1 stuk handbagage
55 x 40 x 20 cm
10 kg
Turkish Airlines
1 stuk handbagage +
1 accessoire
55 x 40 x 23 cm
Totaal: 8 kg
Unites
1 stuk handbagage +
1 accessoire
56 x 35 x 23 cm
22 x 25 x 43 cm
10 kg
Virgin Atlanic
1 stuk handbagage
56 x 36 x 23 cm
10 kg
Vueling

1 accessoire
1 stuk handbagage

40 x 20 x 30 cm
55 x 40 x 20 cm


10 kg

Wizzair

1 underseater
1 stuk handbagage

40 x 30 x 20 cm
55 x 44 x 23
10 kg
10 kg